I am just here for a short update.
Hehe I am watching The Vampire Diaries Season 4 Episode 9 right now and I LOVE IT SO MUCH. It just gets better and better. And it gets more exciting... Have you watched The Walking Dead too? BECAUSE IT IS AWESOME AND VERY BLOODY, I LOVE IT... I don't know why my sister thinks it is disgusting but it is nice lah...
So... Everything is fine, well, for now of course...It has been raining for like EVERYDAY since November and now, even December is a rainy season... ARGH I HATE IT. I wanted to go to USS so badly but the rain is ruining all my plans... I don't wanna spend all my money on USS just for the indoor rides... Although I have been there for like just this one time, but most of the rides are still not open... So my mum probably wasted her money!
OMG YES DAMON SET ELENA FREE.. BUT NO CAROLINE DIDN'T KNOW THAT DAMON DID SO SHE TOLD STEFAN ABOUT IT... OMG OMG OMG THIS IS DRIVING ME CRAZY...Okay...
I am sorry but this is really getting very exciting.... I think I am gonna watch The Walking Dead next so don't blame me if I talk about another topic the next second... AND RIGHT NOW STEFAN IS RAGING AND TYLER NEEDS TO RUN AWAY FROM KLAUS AND APRIL KNOWS ABOUT A LOT OF THINGS RIGHT NOW... ARGH THIS IS SO COMPLICATED! PLUS, she found Rebekah's body and now Klaus is killing Carol, Tyler's mum... ARGH DAMN I HATE THIS... EVERYONE JUST DIE AND DIE AND DIE.... Well, but now, at least Jeremy wouldn't want to kill Elena.... (yeah I know I am a total spoiler but if you watch it, it'll be better)
Alright... Moving back on to what I am saying...
Rachael is at Perth right now and Adriana is working, Ariel and I are spending quality time with our boyfriend so yeah... I really miss the three of them very much. :(
This holidays suck man...
Time for some emotional things to talk about over here...
Sometimes when a person comes off very strong, he/she has gone through lots of terrible things... I know I am not the best at expressing myself but sometimes I just want to keep everything to myself, but that would be cruel to my heart and mind...
I really hate broken promises and lies...
You know, when you have high/higher expectations from someone you love, and the next thing they do is break your trust and it hurts like a bitch, it can even tear your guts out... (not so kua zhang lah but yeah, something in that way) Yeah.... If you know what I mean....
HAHAHA OKAY THAT'S ALL FOR THE EMOTIONAL PART... I HAVE GOT A WHOLE LOT OF THINGS TO SAY BUT NAH, I don't wanna ruin anybody's mood.
Today is the 15th...
Good news: 10 MORE DAYS TO CHRISTMAS!
Bad news: School is gonna re-open soon :((((((((((((((((((((
Talking about school, I am so gonna study so freaking hard with my friends, n lvls is next year and I really cannot fool around or be very relaxed anymore... Argh so stressed about next year... These two months of holidays are not productive at all! NOT PRODUCTIVE AT ALL MAN... Didn't even pick up a book to read and my homework............ Guess what!? NOT DONE YET... :(
I am so gonna freaking get killed on the first day of school but meh.... It's okay.... I think my teachers will excuse me because it is the first day of school hahaha :P
Yes, Christmas!!!! I am soooooooooooo excited about it!!!! Christmas = more presents, happiness and bonding sessions/spending quality time with family members, friends, boyfriend, girlfriend, so on and forth... I love presents!!! Hahaha but who doesn't? Can't wait to be all dolled up and getting ready to be smiling all day hahaha
Chinese New Year..... ;)
I will be going out of Singapore!!! YAYYYYYYYYY hehehe but BOOOOOOO because I can't go around collecting ang pao... :( But it's okay... As long as I will enjoy myself at bintan, then I'm happy... But I will miss my girlfriends and my boyfriend too. :(
So many plans are in my list but only some are done... The others are ruined due to the rain... I am gonna post up a vlog pretty soon, before Christmas... I didn't expect myself to do another vlog but oh well...
I think all of you are probably dying reading all of the above right now so... Here are some photos: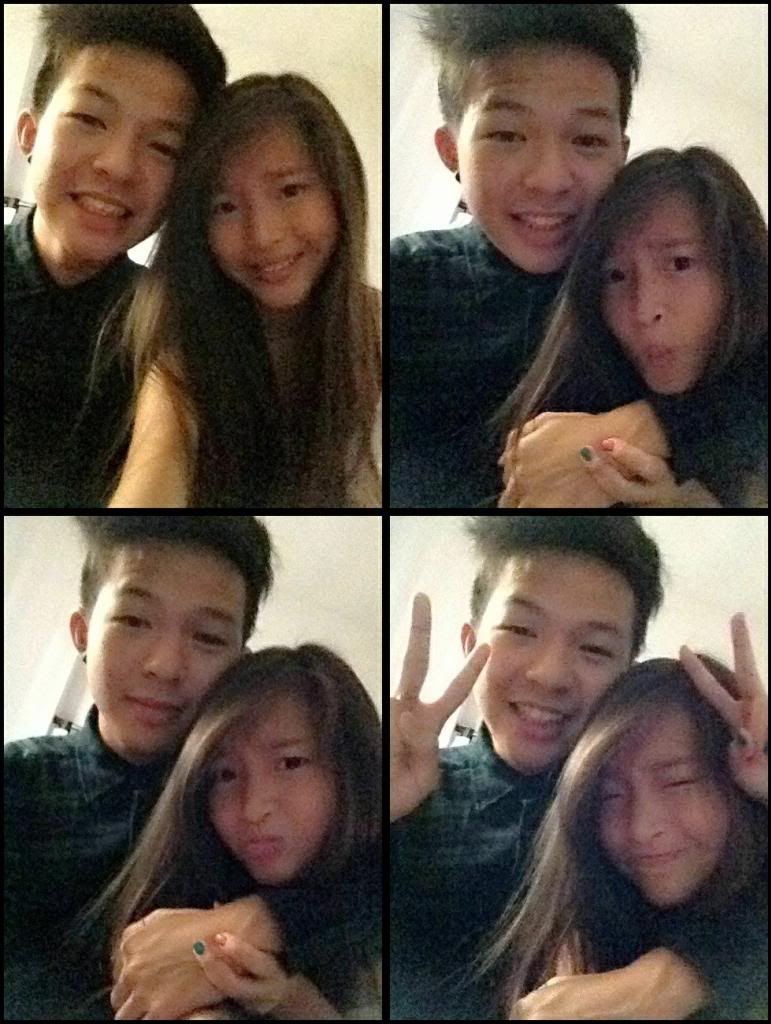 I love this boy so much... I can be a complete idiot in front of him but he still loves me for who I am.
Just a short dedication to you...
Hi boo. ;) I know I am not the best girlfriend but you know I love you right hehehe. You know me the best and I am so glad I met you!!! I wonder how my life will be if I never met you. I know I can be a real whiny and annoying bitch but you still tolerated... Wow, I don't know if anyone else can tolerate it because even my mum or my sister can't tolerate my "princess" attitude.
Thank you for being such a sweetheart, for being there for me, for showering me with you love and care, for always taking care of me whenever I get sick, for celebrating my birthday with me, for loving me for who I am, for tolerating all my nonsense and princess attitude, for always joking around with me just to make me laugh/be happy whenever I am upset... Well, if I carry on, I don't think I will stop so... I just want to thank you for being everything to me and just giving me the best that you can.
I am so glad that our relationship made it so far (gonna rub it in to those people who said that we were not gonna last, and to those who thinks that I am the bitch who is ruining my own relationship by getting jealous easily butttttt look, I always talk things out with him calmly). You are SO SWEET omg, especially in one of your message where you said something about change... My heart melted!!!!!!!!! I really said "AW BABY WHY ARE YOU SO SWEET" in front of my mum and she was giving me that weird look LOL....
Alrighty, I am gonna stop here...

Hehehe me in bf's specs!
Alright... That's all for today! Bye!!! xo