I received an invite from Santa's Igloo a week ago, and I am here to share my experience there with you guys! :)
Santa's Igloo is an anti-cafe where you can pay for the time spent and get to enjoy everything else in the cafe. Perfect place to hangout and chill with your friends! I'll explain more about the place below with the pictures. Oh, and stay till the end of this post for a giveaway!
When I first stepped into Santa's Igloo, I fell in love with the place! I mean, who doesn't love Christmas? Everybody loves the Christmas season hahaha. The place is so cozy, makes me feel like I'm in another place out of Singapore.
They are equipped with entertainment facilities such as:
Mini-Golf, Darts, Pool, Foosball and many other exciting games/boardgames and toys in their Santa's Workshop. There's also Leap Motion, where you can play games like Fruit Ninja etc.! They also have Oculus Rift, a Virtual Reality headset for all of you to engage & experience the VR world. I am not a fan of horror games/movie. It was quite scary for me, it really feels like I am in the game because of the 360 degrees view. The basketball game is my top favourite! You can also get to "ride on" the VR roller coaster ride. Super cool but I got very dizzy after hahaha.
Look at all these games at the Santa's Workshop!
Cereal bar omg!!! My fav will always be fruity pebbles <3
Milk and syrups for your cereals!!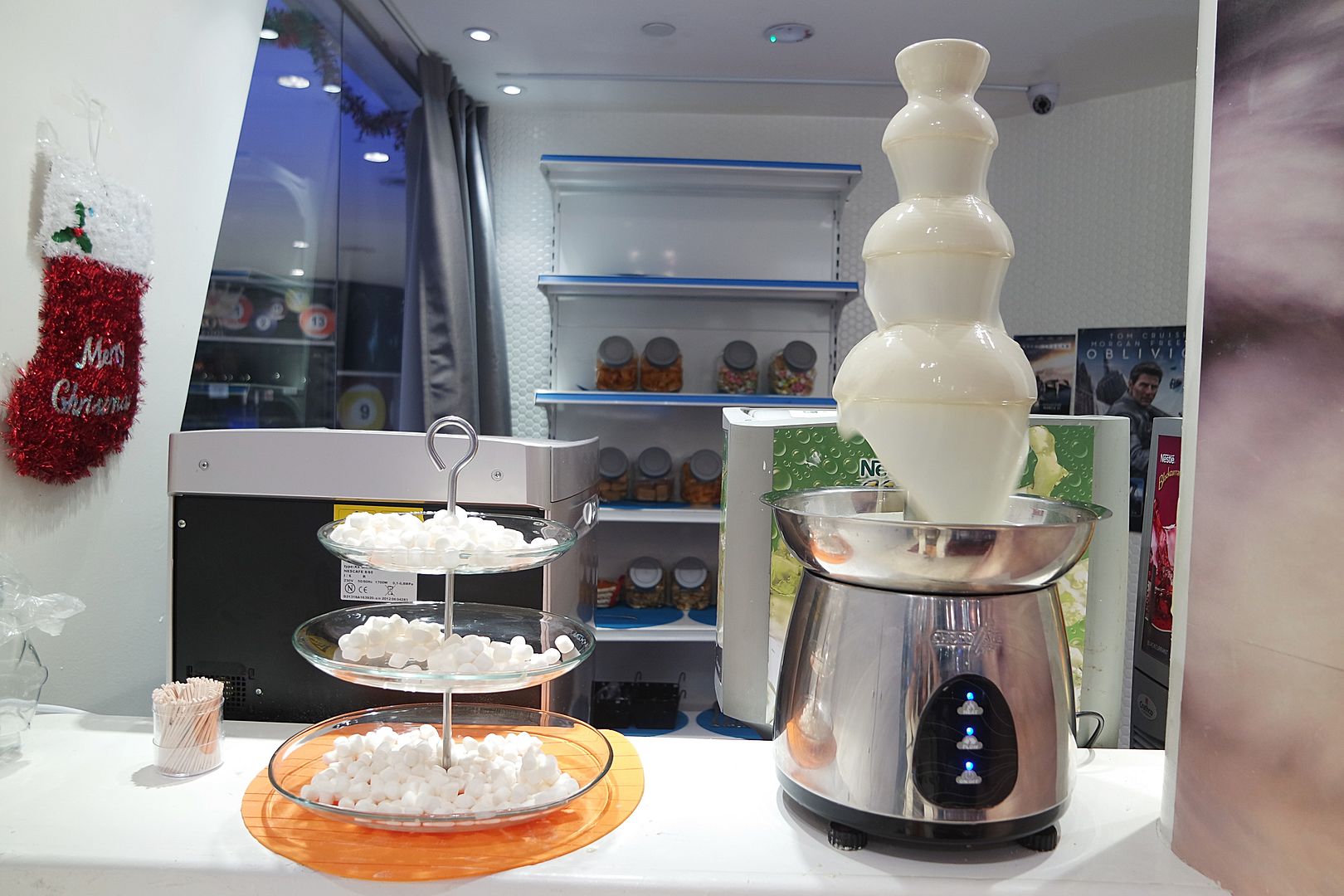 The perfect place to chill and watch 'how to train your dragons 2'!
Really want to thank all the staff at Santa's Igloo for the best service ever. They're so friendly and attends to me immediately when I need something. They even suggest some games that we'll like.
MmmmmMmm!!
There is also a tiki toss ring, if you manage to toss the ring onto the hook, you can get a free scoop of ice-cream!!
This game is super cute & it is one of my favourite, there's also another similar game, the crocodile one. Every time when we snapchat while we're playing, the bunny pops up/the crocodile's mouth closes. You guys should try playing & snapchatting at the same time, to see if it would go off every time haha(this is very random but it was just a funny moment to share with you guys).
I've seen Kendall Jenner & many other celebrities posting videos of themselves on the drift scooter on instagram, and it seems pretty interesting. Guess what y'all?! You can rent one at Santa's Igloo and try it on the spot.
When I first got on the Drift Scooter, I was pretty scared that I might fall. I kept jerking but after awhile, I got the hang of it. Now I wanna get one for myself damn badly HAHA!
My experience at Santa's Igloo was amazing and an unforgettable one. It is definitely the perfect place to be with your friends. It didn't even felt like I was there for an hour, felt like I was only there for 20mins :( When you're really enjoying, time passes really fast... You'll definitely want to stay longer than an hour. Can't wait for my next visit very soon again. Thank you for having me, Santa's Igloo! :)
The giveaway contest will end on 11th July(Saturday), all the best!! <3
*Scape, 2 Orchard Link #03-01
Opening Hours:
Monday - Thursday, 12PM - 11PM
Fridat - Saturday, 12PM - 2AM
Sunday, 12PM - 11PM
Xoxo,
Vanessa